"The Ballard of Dr Nick who was busy caw'ing with No Mods when a Ravenos Simopotomus approached him"
This is a collab thread between a few of us that are hoping to provide a current/next gen wwe roster for the community.
Where it all began. TOPIC 1:

http://caws.ws/forum...reviews-inside/
Complete section now including CAS files:
http://caws.ws/forum...tion/?p=9242465
CORE TEAM
Founders of the project and responsible for all base caw related duties...morphing, textures...etc.
AJ - Textures/occasional caws
Ballard - Caws
Birdy - Caws
Big Pete - Caws
Cheddar - Refs/Adding renders/ Applying attires/Passing caws & textures
Defract - Textures/occasional caws
Dr Vries - Caws (Finisher)
Hippo - Caws/Movesets/Occasional Textures (Finisher)
Miztah Raza - Fixes/Occasional Textures
HotavioH - Textures/Renders
Iamnomodder - Caws (Finisher)
NWOldskool - Caws
Nickbreaker - Caws
Ravenos - Textures
Righteous L. Jackson - Movesets
Shattered - Caws
We appreciate the support for the project and encourage people to support us by adding nCo to your avatar/banners! We ask that you do not post CAWs in this topic unless your name is listed above! If you want to submit a CAW for the project please PM pics of it to the NCO account. If a member of the project sees enough potential in it to tweak your CAW, this will make you a guest contributor of the project NOT a member. Please only submit CAWs that you would consider FINISHED CAWs and not works in progress! Thank you.
----------------------------------------------------------------------------------
ADDITIONAL SUPPORT
Responsible for many of the other things that go towards making these wonderful creations such as fixes, refs, movesets, entrances, trons...etc
BroskiBen - Refs
Codes - Entrances
Kidd Dibiase - Refs
Kid Sampson - Fixes
NoMoreBumps - Refs
Status - Trons/not banning us
The Knight - Movesets
----------------------------------------------------------------------------------

note: I'd also like to state a long overdue thank you to a few people and sincere apology for not adding this earlier -

BrienJ and Tekken for once again making textures possible...your work is truly appreciated.

Miztah Raza aka Cody's Mustache for the many pt fixes provided, you already know how grateful I am for this...just saying it out loud - you are a star and without doubt an honorary member of nCo


And finally each and everyone of you involved in this project, a superb group of gents all with individual talents, plenty of flair and just generally make collabing easy and fun...keep up the great work.

--------------------------------------------------------------------------------------------------------------------------
Roster List:
Red = Early work no preview
Yellow = In progress
Green = Complete/Uploaded
Found here: http://caws.ws/forum...mplete-section/
NXT:
Adrian Neville - Dr Vries
Aiden English - Dr Vries
Bray Wyatt - NWO/Hippo/AJ/Dr Vries
Briley Pierce - Ballard
Byron Saxton - Dr Vries/Birdy
CJ Parker - Shattered/HotavioH
Colin Cassidy - Shattered/Dr Vries
Connor O'Brian - Shattered/Dr Vries
Corey Graves - Hippo/Defract/AJ
Dante Dash
Emma - NWO
Eric Rowan - Shattered/NWOldskool/Iamnomodder
Garrett Dylan - Shattered/Dr Vries
J. Bronson - NWO/Ballard
Jake Carter - Shattered/Dr Vries
Jason Jordan
Kassius Ohno - Dr Vries/ AJ
Kenneth Cameron - Shattered/Dr Vries
Leo Kruger - Iamnomodder/BigPete/Dr Vries
Luke Harper - NWO/Iamnomodder/Dr Vries
Mike Dalton - Shattered/ Dr Vries
Oliver Grey - Shattered/Dr Vries
Paige - Iamnomodder - Hippo/NWO/Lyriqz
Richie Steamboat - Hippo/AJ/Dr Vries
Sakamoto - Shattered!
Rick Victor - Shattered!
Summer Rae - NWO
Xavier Woods - BME/Dr Vries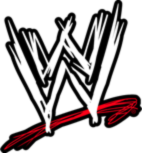 WWE:
Alex Riley - Hippo/Slipfan/Dr Vries/NWO
Big E Langston - AJ/Hippo/Dr Vries
Bo Dallas - Dr Vries/AJ
Brad Maddox - Hippo/AJ
Aksana
Camacho - Hippo/AJ
Cameron
Curt Hawkins - Ballard/AJ
Darren Young - Iamnomodder/Dr Vries/AJ
Dean Ambrose - Hippo/AJ/Nickbreaker
Derrick Bateman - Hippo/AJ
Evan Bourne - Dr Vries/Reckless Youth
Ezekiel Jackson - BigPete/Birdy/Dr Vries/Iamnomodder/AJ
Fandango/Johnny Curtis - Hippo
JTG - Big Pete/Dr Vries
Kaitlyn - Hippo
Mason Ryan - Birdy/Dr Vries/Ravenos/AJ
Matt Stiker - Ballard/Codes
Michael McGillicutty - Big Pete/Hippo
Naomi
Paul Heyman - NWO/AJ
Roman Reigns - Nick Breaker/Dr Vries/AJ
Rosa Mendes - Iamnomodder
Seth Rollins - Dr Vries/Rav
Tamina Snuka
Titus O'Neil - Iamnomodder/AJ
Tyson Kidd - Dr Vries/AJ
Vickie Guererro - Iamnomodder
William Regal - Dr Vries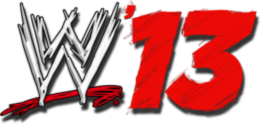 WWE 13 IGM Updates:
Chris Jericho - Defract
CM Punk - NWO
Jack Swagger - Ballard/Dynomyte
The Miz - Big Pete / Iamnomodder / Ravenos
Ryback - WolfgangJT/AJ
WWE HOF:
Bret Hart - NoModder/AJ
Shawn Michaels - Birdy/NWO/AJ
Terry Funk-NWO
WWE Alumni:
Goldberg - AJ/Dr Vries
Kurt Angle - AJ/Hippo
Rob Van Dam - AJ/Dr Vries
Trent Barreta - Ballard/AJ/Hippo/Dr Vries
Tyler Reks - Ballard/AJ/Hippo
Bobby Lashley-NWO
-------------------------------------------------------------------------------------------------------------------------
Curt Hawkins
by Ballard, Dr Vries, & AjSim
Jack Swagger
by Ballard, Dynomyte, & Miztah Raza

CM Punk
by Oldsie, Ravenos and Miztah Raza
Vickie Guerrero
by Iamnomodder
Briley Pierce
by Ballard & Shattered!
Moveset by Broski Ben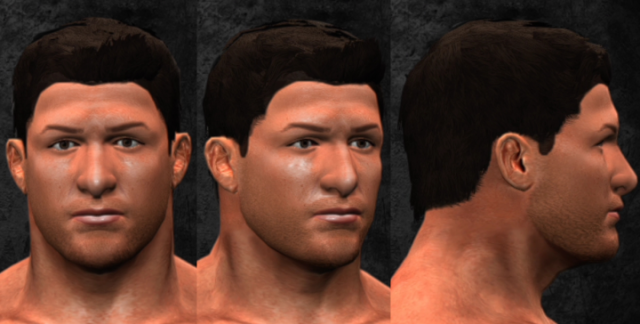 Rick Victor
by Ballard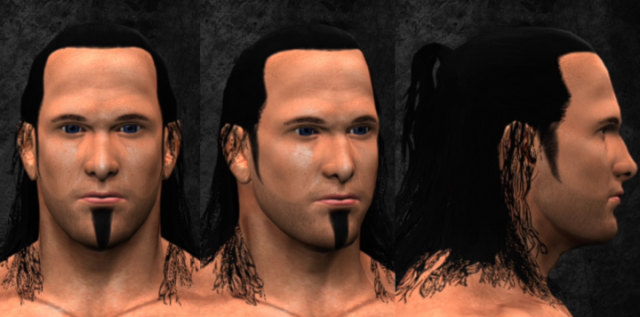 Sami Zayn
by Shattered!
(Tags: Sami Zayn, nCo)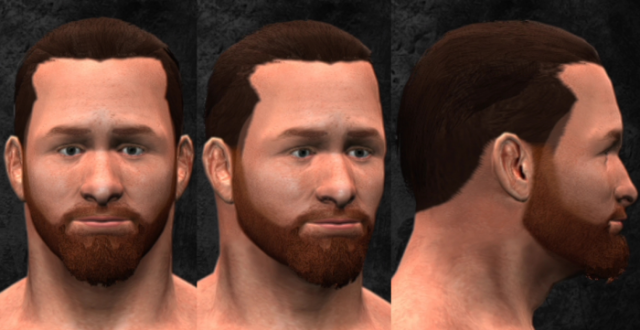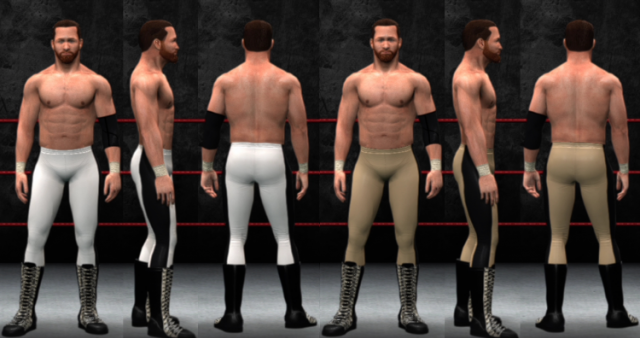 Bobby Lashley
(Lashley, nCo, NWO)
Morphing/Detailing by NWO
Face/Tattoo textures by AJSim
HotavioH for the Render
Righteous for the Moveset
Dre41 for the Trunks Logo
Paige
Morphing/Detailing by NWO and Hippo
Credit to: Lyriqz as this is a major overhaul of his Paige
Fandango/Johnny Curtis
Morphing/Detailing: Hippo
Attires: AJ Sim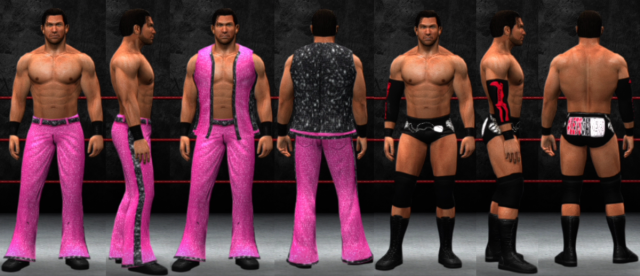 Corey Graves
Morphing/Detailing: Hippo
Attires/Tattoos: AJ and Defract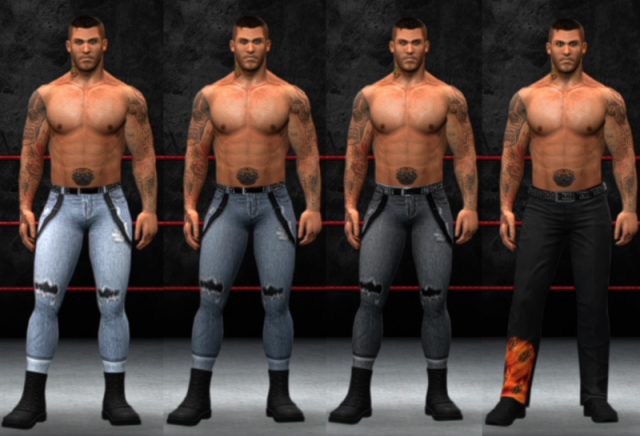 Derrick Bateman
Morphing/Detailing: Hippo
Attires: AJ Sim


Terry Funk
Tags:NCO, Funk and Rendered
By NWOldskool

Credit to Codes for the face texture

Righteous for the Moveset

HotavioH for the Render
Audrey Marie
by NWOldskool
Shawn Michaels
by TheBirdSolution, NWOldSkool and AJSim
Tags:(Birdy, NWO, NCO and HBK. )
Credit to AJSIm for the attires
Credit to Codes. for the Face Texture
Matt Striker
by Ballard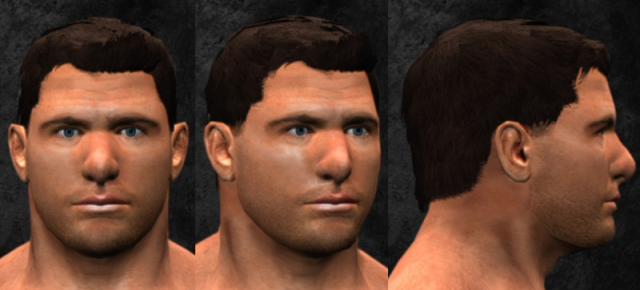 Summer Rae
by NWOldskool
William Regal
by Dr Vries and AJ Sim
Attire and Face PTs by AJ Sim
Big thanks to Archer for a super quick emergency fix.
The Miz
by Big Pete, Iamnomodder, Ravenos
JTG
by Big Pete and Dr Vries
Alex Riley
by: Hippo, SLIPFAN
PTs by: Ravenos
Tweaks by: Dr Vries
PAIGE

By: Iamnomodder
Tweaks by: Dr. Vries


CJ PARKER
by Shattered
Themes/Trons section:

Nearly all the WWE entrance music for the guys we have planned, and some other theme updates too, just to keep the roster upto date (courtesy of yours truly, TheBirdSolution):

http://bit.ly/RtxVQG
(3MB, Adrian Neville, Alex Riley, Big E Langston, Bo Dallas, Bray Wyatt, Byron Saxton, Corey Graves/Jake Carter, Curt Hawkins, Dante Dash, Dean Ambrose, Epico/Primo, Evan Bourne, Ezekiel Jackson, Hornswoggle, James Bronson, Johnny Curtis, JTG, Kaitlyn, Kassius Ohno, Leo Kruger, Mason Ryan, Matt Striker, Michael McGillicutty, Paige, Prime-Time Players, Richie Steamboat, Rosa Mendes, Seth Rollins, Summer Rae, Tamina, The Ascension, Trent Barreta, Tyson Kidd, Wade Barrett, Xavier Woods)

THEME UPDATE PACK 1:
http://bit.ly/XzKx9h
(The Shield, Sin Cara, Prime-Time Players)
THEME UPDATE PACK 2:
(Adrian Neville & Oliver Grey, Brad Maddox, Brock Lesnar, Corey Graves, Fandango, Jack Swagger, Ryback)
THEME UPDATE PACK 3: (Credit to WFMashUpz for the assist on this)
(Emma, Fandango, Epico/Primo, Adrian Neville/Oliver Grey, Conor O'Brian, Sofia Cortez, Leo Kruger, Roman Reigns, NXT, Audrey Marie, Mike Dalton/Jason Jordan, Kassius Ohno, Kaitlyn, Dante Dash, Sasha Banks, Xavier Woods, Monday Night RAW, Friday Night SmackDown, El Generico [Because F' "Sammy Sane", there will only ever be one generic luchadore. OLE!])
Edited by nCo, 11 July 2013 - 04:22 AM.