Content Count

1,152

Joined

Last visited
About Valar Dohaeris
Rank

King in the North

Birthday

12/15/1995
Contact Methods
Website URL

http://victorypro.jcink.net/
Previous Fields
Favourite Wrestler

Seth Rollins / Alexa Bliss

Favourite Music

Alter Bridge, Bliss n Eso, Queen, Pain of Salvation, System of a Down

Star (Zodiac) Sign
Favourite Wrestling Company
Orientation
Ethnicity
Favourite TV Show
Twitter Handle
Profile Information
Gender
Location
Interests
About Me
THE NEW AGE PLAGUE
former UWA LADDER MATCH CHAMPIONSHIP (x2)
UWA WORLD CHAMPIONSHIP (x1)
former UWA UNIVERSAL CHAMPIONSHIP (x1)
THE NEW AGE PLAGUE; 013-010-000
THE DISMEMBERED SOUL; BRIAN CHURCH; 006-001-000
THE BLACK DEATH; CHRIS CHRIST; 002-006-000
THE NEW AGE DREAM; JAMES MACKAY; 003-003-000
THE NEBRASKAN ASSASSIN; KAILEE BROOKE; 001-000-000
THE INNOVATOR OF SADISM; ROY DAHLIA; 001-000-000
»»».ROLEPLAYRECORDS.
ROLEPLAYS:
. ANOTHER VERSION OF THE TRUTH; THE WORLD IN PROSPECT - "..brian church's blog entry about uwa and life.."
. NEW AGE PLAGUE IS NEVER DEAD - "..brian church and chris christ hit the ring and discuss the new age plague reformation. they are interrupted by phoenix, who threatens them. kailee brooke attacks phoenix with a sledgehammer, joining the plague. james mackay returns to the plague.."
. DESTINED FOR GREATNESS - "..brian church conducts the new age plague's rebirth, and reminisces the original plague, before speaking about how improved this variant is. johnny light debuts, and is given the task of beating phoenix at the payperview. if he succeeds, he is a member. should he lose, he will be beaten down by the plague. mikes stokes debuts, and argues, becoming scheduled to face chris christ at the payperview.."
. THE NEW, NEW AGE PLAGUE - "..james mackay talks about the new age plagues history and future.."
. THIS WAR IS OURS! - "..brian church, kailee brooke, and chris christ discuss uwa, their goals, and new age plague tiself. they discuss their enemies, and end up beating down vise evans, who attempts to come out and shut them up. after beating him down, brian church seemed to slip into madness during a rant, and gave the microphone to chris, who spoke, before returning the microphone to brian, who concluded yet another new age plague promo.."
. SPEAK OF THE DEVIL - "..chris christ preforms his first solo promo, talking vindictively about the anti-Plague.."
. HUNG IN THE GALLOWS - "..brian church comes out to talk, but is interrupted by long-time friend and rival jake smith. the two exchange heated words, before breaking out into a brawl. ken green, an internet sensation comes out of the crowd area, and levels the security guards, before the three expose the veil, having planned it all. they hang up one of the guards, and symbolically stand beside one another.."
. DIAGNOSIS TERMINAL - "..brian church drops a threat, or a challenge, to any and all people who want to try and cure the new age plague, or as he put it, the incurable tragedy.."
. DAWNING OF A NEW LIGHT - "..johnny light strikes a powerful promo to the fans, talking about his career and his future with the new age plague.."
. IN THE LIGHT OF THINGS - "..johnny light talks about the universal title tournament and his match with phoenix at highway to hell. fortunately for him, johnny light managed to defeat nolan mercer with brutal ease.."
. THE BEST KEPT SECRET REMAINS - "..brian church does a video vignette, an enigmatic one at that.."
. ONLY ONE MAN - "..brian church goes haywire and destroys part of his locker room. next he goes out to the ring, telling the world to disregard the messages on the uwa site, as every single member of the new age plague are the real messiahs.."
. FEELS LIKE YOUR LAST - "..brian church is irked, and makes it known. he establishes reasoning for the majority defeats at the first show.."
. WAS I INTERRUPTING SOMETHING? - "..blake starling this his fourth promo in uwa, before getting brutally attacked by brian church, who talks, before getting attacked by blake! however, blake was taken down again, and brian laid the challenge down for the uwa site mystery man.."
. THEY COULD HAVE SAVED HIM - "..brian speaks on his upcoming match with darkdevil, which he wins, and goes on a tirade.."
. TASTE HOW UGLY IT IS - "..brian church makes his views, opinions, and threats very known, especially about darkdevil and kevin blaine.."
. 'CAUSE EVERYTHING YOU ARE DISGUSTS ME - "..brian church and chris christ come out to talk about this week, as well as darkdevil, but mainly, it's an outlet for brian church to go on a tirade about kevin blaine.."
. YOU WILL HEAR THEM WHEN THEY LIFT THEIR WINGS - "..james mackay, chris christ, and brian church hit the ring to give some last words before the massive payperview.."
. KNOWING THAT YOU DIED A PAINFUL DEATH - "..brian church comes to the ring to deliver (potentially) his final promo, and a powerful one at that. one of his biggest, best, and most emotional promos to date, and perfect for his upcoming title defense against phoenix.."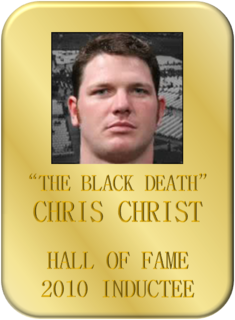 --------

\