——————————————————————————————————

SUPERSTAR • ACTOR • COMEDIAN • BUFF
DERRICK "MANTASTIC" BATEMAN
FUN LOVING • DAFT • FUNNY • CLASSICAL

——————————————————————————————————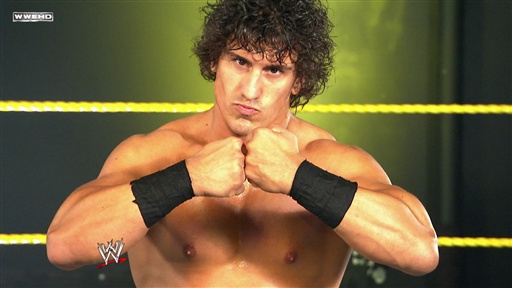 ________________________

Name

► Derrick Bateman

____________

Nickname(s)

► Mr. Mantastic


________________________

Height

► 6'2"

________________._____

Weight

► 231 Pounds


________________________

Hometown

► Cleveland, Ohio

________

Billed From

► Cleveland, Ohio



Disposition
►
FACE
; Although his arrogance and basic moveset might make it seem otherwise, Derrick Bateman is the ultimate fan-favourite due to his comedy timing and general charm. As a rule it is other wrestlers that are the butt of his jokes and because of this, he finds it difficult to make friends.
Wrestling Style
►
TECHNICAL/SUBMISSION
; Not one to try anything fancy he has a very basic fighting style consisting of strikes, submission wrestling and more often than not technical wrestling. He enjoys partaking in "shout-out's" to the old school with suplex's, airplane spin's etc. He is prone to 'rookie' mistakes by playing to the crowd but is never lacking in intensity. There isn't much he takes seriously but wrestling and winning is one of them.
Entrance Theme

►
"Eye of the Tiger" by Survivor
Finisher(s)

▼
Man-Tastic
; Firstly, Derrick would wrap his arm around the neck of his opponent in a side headlock. (This is also called a reverse chancery.) From here Bateman flips forward and hits a high impact variation of the snapmare where instead of flipping the opponent over, Derrick drops down either on his chest or down on his knees and drives the opponent's head down to the mat forehead first, with the headlock intact;
Modified Snapmare Driver
Signature Moves

▼
The Deviant
; Derrick lifts the opponent on to their shoulders and spins him around and around until they get dizzy and crash to the ground. The name is a shout-out to his one time friend Bryan Danielson;
Airplane Spin
The American Twist
; Bateman runs towards his opponent, wraps his arm around their upper chest and neck and swings his legs over with a front somersault, using his momentum to pull the opponent down with him to the mat, on to their upper back. This move is also called a lariat takedown or bulldog lariat;
Running Somersault Neckbreaker
Chicks Dig It
; The term suicide or suicida is placed before any move that goes from the ring, the ring apron, or the turnbuckles to the outside of the ring. The most obvious is a suicide dive also known as a topé suicida, which is simply a jump through or over ring ropes to the outside;
Suicide Dive
DBK (Derrick Bateman Kick)
; Derrick sets up the opponent, seated or standing at a corner turnbuckle and hits him with a dropkick. More often than not he will run across the ring to hit the move with more torque and momentum;
Corner Dropkick
Common Moves

▼
Clothesline
Diving Clothesline
DDT
DDT From The Middle Rope
Dropkick
Diving Dropkick
European Uppercut
Forearm Smash
Sleeper Hold
Spinebuster
Suplex
German Suplex
Snap Suplex
Reverse Suplex
Takedown/Tackle
Enemies

►
N/A
Allies

►
Dolph Ziggler (Pro)
ICW History

▼
[ Matches Entered: 003 | Victories: 002 | Losses: 001 | Draws/DQ's: 000 ]
[ BUSINESS | BREAKOUT | WARZONE | PAY-PER-VIEW ]
——————————————————————————————————

CHAPTER "NUMERO" UNO
April, 2011 • June, 2011

——————————————————————————————————
11th April, 2011

; Derrick Bateman was officially included in the first ever season of International Championship Wrestling BreakOut as a rookie. His Pro was revealed to be the ICW No-Limit's Champion, Dolph Ziggler.



19th April, 2011

; Bateman made his official ICW debut appearing on the 19th April edition of WarZone in a segment with his Breakout Pro, Dolph Ziggler and the Executive Consultant, Vickie Guerrero who introduced him to the ICW faithful for the first time.



26th April, 2011

; Just two days away from Breakout, Derrick Bateman in some last 'minute' preperations made his way to Glasgow, Scotland to spend the time with Dolph Ziggler over on WarZone. He only appeared on-air once in a segment with Dolph, Vickie and the ICW Television Champion Kofi Kingston. The two Championship Chamber opponents shared some heated words whilst Kofi wished Derrick the best of luck in attempting to acquire the shot at HIS Television Championship.



28th April, 2011

; In the first ever episode, of the very first season of Breakout Derrick Bateman was set to face Jack Swagger in the very first match of the night. No pressure then. The match was a very hard fought one and the two traded blows back and forth, Swagger getting a near fall a number of times. It looked like it was over once Jack had Bateman up for a Gutwrench Powerbomb, however, Derrick slivered his way out of his grasp and hit Man-Tastic out of nowhere! With the All-American American out in the center of the ring all that was left for him to do was get the pinfall which he did so graciously. From his actions, we believe no one was more suprised than him even going backstage to greet his pro straight after the match. EPISODE ONE



05th May, 2011

; This week, with a win firmly under his belt, Derrick Bateman was in a great and confident mood. That win was over Jack Swagger and it didn't take long for him to reintroduce himself when the two of them met backstage after his match. Jack issued a challenge that if they ever have the opportunity to compete again; there would be a different outcome. Derrick shook Swagger's hand and told him if he ever had the choice to decide his opponent, he would choose Jack. Later in the night, after Daizee and Dolph agreed on a one-week rookie switch for next week, Derrick made it very clear that he didn't like the idea. Dolph quickly brushed the problems aside though and got Bateman ready for his match against ICW superstar, TJ Mack. The match was worthy of the main event spot but as the dust was settling, one man stood tall and that was Mr. Mantastic, Derrrick Bateman. With an ingenius counter into Man-Tastic he picked up the win brilliantly putting a message out there for everyone to see; he is stupid, but he knows how to pick up a victory or two. Derrick is now the man to beat. EPISODE TWO



12th May, 2011

; With the "rookie swap" in overdrive Derrick Bateman was yet again in the Main Event, this time facing Robbie E and Mason Ryan Barri Griffiths in a Three Way Dance. Yet again it was hard fought contest and any of the three could have picked up the victory but only one man stood tall at the end of the bout and that man was Robbie E, seriously increasing his prospects at winning that ICW Television Championship shot. With a loss now attatched to his name it'll be interesting to see how the young rookie responds, especially back in the care of Dolph Ziggler. EPISODE THREE



Championships

► N/A



Notable Accomplishments

► N/A
Edited by Cain IS Abel, 13 May 2011 - 06:41 AM.