ICW Wrestler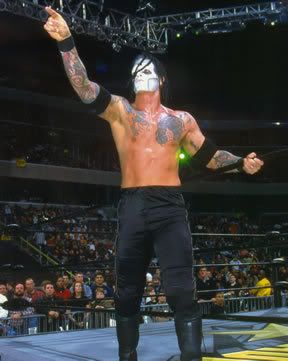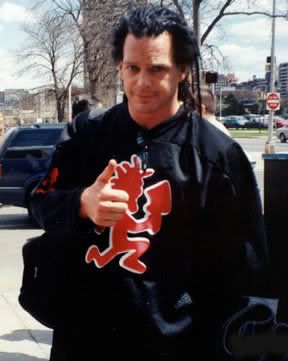 Wrestler Name:Vampiro
Hometown:Born in Thunder Bay,Ontario,Canada,Billed From The Darkest Depths of Hell,Now Resides in Guadalajara,Jalisco
Height:6'3" and 1/2
Weight:240 lbs.
Finishers:Nail in the Coffin aka The Vampiro Spike(Sitout scoop slam piledriver, sometimes from the top rope)
Short Description Of Wrestler: While born in Thunder Bay, Ontario, Canada, Vampiro has been an international superstar and top draw in Mexico for nearly a decade! Now officially a dual citizen, his Mexico City and other cultural tattoos are a constant source of pride for this fearless warrior. The former Mexico World Heavyweight Champion became a breakout star in WCW before Vince McMahon purchased the company in 2001. He then returned to Mexico where he was a top draw in both CMLL and AAA. Now the dark punk rocker is an independent wrestler.Vampiro also known as El Vampiro Canadiense or the Canadian Vampire and El Vampiro Casanova was Trained by Abdullah The Butcher was originally a Hockey Player and was Drafted by Kingston in the OHL(Ontario Hocky League) and was the first WSX Champion but lost it to Ricky Banderas and was the longest reign even though it was short lived. He was also known as Ian Richards and Gene Anderson. He's also the lead singer of a hardcore punk band called Vampiro. Ian also used to be a roadie for a punk band called the Dead Kennedys, back in 84-85 and He was a bodyguard for Milli Vanilli.
Introduction Roleplay: *


(ICW)As the WarZone Theme plays,it is quickly cut off.The crowd is pumped up for some action.Fans raising Triple H sucks! Signs are present.
Tony Schiavone
What the?Well let's start this show,Good Evening Ladies and Gentlemen and Welcome to ICW Saturday WarZone i'm here tonight with Bobby "The Brain-
Tony Schavione gets cut off and music of an unkown wrestler starts to play,The lights Flicker on and off,As the light goes steady it becomes red.Everything goes back to normal as if nothing happens.Then a titantron plays.It shows images and words.The titantron keeps showing the words I'm Back written in blood stains and then it get's Cut off.
Bobby Heenan
That was weird,Well as Tony said I'm Bobby "The Brain" Heenan we seem to have some technical problems but lets start this show.
Micheal Buffer
Ladies and Gentlemen,Please welcome the No-Limits Champion,The Legend Thriller,Jeff Hardy!
Jeff Hardy Enters the ring with his Championship belt pumping up the crowd.The crowd cheers and then he grabs the mic.
Jeff Hardy
As you all know breaking point and me and Triple-
Jeff gets cut off.The lights go pitch black and complete silence suddenly everybody hears a loud slam and the lights go back as if nothing happens,In the Middle of the ring lies an unconscious Jeff Hardy with his belt on lying on one of his sides and on the other was a sledgehammer
Tony Schiavone
Let's get paramedics out here!

As the show aired no other mysterious thing happened until Jeff enters back into the ring
Jeff Hardy
Triple H your attack on me earlier was low even lower than what you usually do.

As expected Triple H's Music starts to play.Triple H comes out.The fans are booing him.Quickly he grabs the mic from Jeff's hand.
Triple H
Jeff,what made you think I attacked you?Did you think I was insecure that I can beat you?
Jeff Hardy
Well the truth is,you did it!Your afraid that I will beat you!

They started to Brawl.The lights flicker on and off once again and the titantron started to play once again.Then a mysterious wrestler with the sledgehammer used to attack Jeff Hardy came out and stands just waiting.As if waiting to be introduced.
Bobby Heenan
Tony,Who is that?
Tony Schiavone
I don't know Bobby.But im guessing it's VAMPIRO!!!!!Yes!!!It is Vampiro!!!!!

Vampiro runs to the ring.Then he bashes Triple H with the sledgehammer and Jeff and Vampiro quickly stomp on Triple H.Vampiro quickly stares at Jeff.Jeff stares back and offers a handshake and Vampiro quickly accepts.
Tony Schiavone
This is quite a turn of events.First Vampiro Attacked Jeff and know they are a coalition?This is weird!No I take that back!!!Nail in the Coffin!!!!Vampiro hits him with the Vampiro Spike!!!!
Bobby Heenan
Vampiro Spike,Nail in the Coffin!Whatever you call it.It is still a devastating move!

Vampiro slowly climbs up the top rope.
Bobby Heenan
What is Vampiro thinking?Is it?No!!!!Swanton Bomb!!!!
Tony Schiavone
Vampiro stole Jeff's Swanton Bomb which Jeff might never use in his Match against Triple H at Breaking Point.

Vampiro picks up the mic.
Vampiro
Well,I made quite a Return and,unfortunately for all you superstars out there at the back,I am Here to STAY!!!!!!