Monkey D. Jiggy
Member Since 15 Nov 2008
Offline
Last Active Today, 10:55 AM
holy shit, you're back? How are ya? (Also, I'm posting this on your profile, because I'm not sure if you get a notification if I just reply to the comment on my prof...
Updated 11 Sep · 0 comments
About Me
I should really remove most of the cringy stuff I've posted here when I was younger.
------
Before you ask, I have to come clean. I am not a monkey.
 
I'm the next Flying Lotus the second I decide to get up and do something.
 
My name is Anna. No, I won't send you pictures of my feet. (What the *Censored*, why would you post that?) I'm a captain. (This makes no sense.) I go by the name of Jiggy here. (Okay, but why though?) I live in Rotterdam. It's the second largest city in The Netherlands. It's also known as our version of Chicago. So it's shit if you live in the shit part of town. I once saw two people burn a girl alive when I was 8. (Seek therapy.) My parents then moved the *Censored* out of that neighborhood. (stop snitching/meh, as if there will be actual consequences)
I'm of Cape Verdean descent. See it as mini-Brazil. Therefore, I'm automatically part Portuguese. (Can't speak Portuguese though you hoe)

I'm into sports. Mostly football and Formula One. I support Arsenal and Feyenoord. Despite everything.
 
 


 
 
 
Current favorite F1-drivers: Max Verstappen, Nico Hülkenberg, Charles LeClerc
All-time favorite F1-drivers: Michael Schumacher, Mika Hakkinen, Kimi Raikkonen.

I started watching wrestling in 2001, 2002, somewhere around that period. Wrestling was removed from Dutch television and i started watching again in 2008, thanks to the internet. My absolute favorite wrestler is Montel Vontavious Porter, future World Champion. I hope. But then he got released. But he is doing good in Japan, so big up to MVP. And then he went to TNA. Good for him still. Then TNA died. They're dead. Shout out to Mr. 305 either way.
 
 
 
 
 
 
 
 
 

A whole lot of football/soccer-related pictures coming up. That is it. I'm probably never going to remove those pics.





Tifosi created this for the Classic: Feyenoord vs. Ajax


Jon Dahl Tomasson scored for Feyenoord against Ajax





Stadion Feijenoord, also nicknamed 'De Kuip'. It holds over 50.000 people and the stadium is always packed.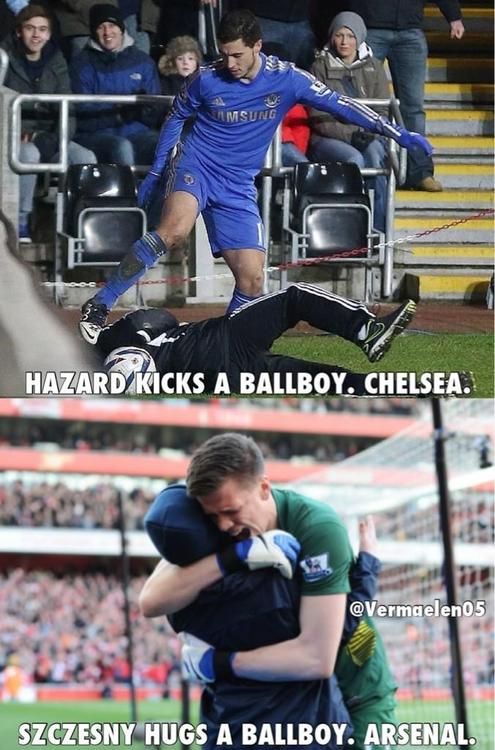 (You're disabled.)
Sort it out, Hazard. (Keeping that in case I'm going to replace it, so that I know what to look for. You're never going to replace it. Also, who are you explaining this for?)






Andrei Arshavin!!!!




Thierry Henry & Dennis Bergkamp: Legends of Arsenal. They rule. Unlike you, Robin van Persie. I *censored*ing hate you.

------
 
 
 
 
 
 
 
I'm no longer angry at Van Persie. But I still *censored*ing hate him.
---
I don't even do that anymore, but it's fun to read back on embarrassing stuff you used to say on the internet. (You still say embarrassing stuff on the internet.) Well, it's not that fun, but I want to keep it up. (Oh.) We patched things up, me and Van Persie. (He has no idea who you are.)
 
Why are you still here? (Why are YOU?)
---
Community Stats
Group

Members

Active Posts

24,632

Profile Views

24,753

Member Title

Kurosaki Ichigo

Age

28 years old

Birthday

August 22, 1991

Gender

Female

Location

Vegapunk's Lab

Interests

Sports, writing, gaming. Even though I don't write and I don't game atm.
Previous Fields
Favourite Wrestler

SANADA

Favourite Music

Hiphop/rap music.
Favorite artists of the moment: Kendrick Lamar, Vince Staples, Casey Veggies, A$AP Rocky, Travi$ Scott, Drake, Mac Miller and Tyler, The Creator.

Star (Zodiac) Sign

Leo

Occupation

Uni

Console(s) Owned

NES, Game Boy, GBC, PSX, PS2, PS3, Wii, NDS, PS4

Favourite Wrestling Company

WWE, although that isn't saying much..

Orientation

Straight

Favourite Food

Rice. Tartar. Powdered Mashed Potatoes. Victory.

Ethnicity

Cape Verdian, Brazilian, Portugese, Spanish

Favourite TV Show

Orphan Black

Sig/Avatar Credits

I forgot.

Twitter Handle

@Jackel_Ramzilla
Viewing Profile: Monkey D. Jiggy