Having been on this site almost as long as it is running I feel a bit of a veteren, and yet I am a noob when it comes to sharing my stuff online (having only done so once before 2/3 years ago). So, I suppose its time I put my neck on the chopping block and shared some stuff with you guys.
I don't know if anyone is interested in this, but here goes nothing:
My WWF/E Gaming History,
&
A History of XWF (Xtreme Wrestling Federation), SCF (Squared Circle Federation), TBW (Totally Brilliant Wrestling) and GWS (Global Wrestling Superstars).
XWF/GWS Showcase 2013
CAW #1
Call Name: Mortimor B. Zuckerman
Nick Name: MBZ
Real Name: Mortimor Bradley Zuckerman
Height:184cm (6'0")
Weight:101kg (222lb or15st12)
Hometown:Long Island New York
Finisher 1:MBZZZZZZZZZZZZZ (Million Dollar Dream)
Finisher 2:Cross Arm Neckbreaker
Signature Moves: Money Drop (Fist Drop), Tornado DDT
Overall: 81
Card Position: Midcard
Tag Team: Money & Fame (with Albert "The Count" Roulard
Stable/Faction: (Leader of) Zuckerman Inc (also referred to as MBZ Inc)
Back Story: Evil Multimillionaire who leads Zuckerman Inc. Zuckerman, who joined the XWF in 2005 is a seasoned veteran after long stints in a number of other Federations such as TBW and WASP (Wrestling Association of Super Pro's). Zuckerman is a certified millionaire from his businesess away from the wrestling industry, has used his money and fame to buy his way to victory on a number of occasions, hired goons and created his own stable known as "Zuckerman Inc" consisting of his right hand man; Albert "The Count" Roulard, Membrian, Sinspector, Dirty Dev and Dave the Drunk.
In many cases Zuckerman plays on the weaknesses of those within his group to manipulate them into getting what he wants. He has on occasion also hired BBK & Hard Assassin to take care of business for him when he feels his own crew arent getting the job done. He is malicious and cold hearted individual and will often throw his own men to the wolves to save his own skin. In his opinion he can buy their loyalty, and if they take a beating for him he can fix the problem by giving them a bonus in their pay packet.
Song: Money & Fame
Artist: Scorpions
CAW #2
Call Name: "The Count" Albert Roulard
Nick Name: The Count
Real Name: Albert Roulard
Height:182cm (5'11")
Weight:101kg (222lb or15st12)
Hometown: New York, New York
Finisher 1:
The V.A.T. Kick (Spinning Wheel Kick from the Top Rope) 
Signature Moves: The TAX Haven (Emerald Fushion)
Overall: 82
Card Position: Midcard
Tag Team: Money & Fame (with Mortimor B. Zuckerman)
Stable/Faction: Zuckerman Inc (also referred to as MBZ Inc)
Back Story: The Count joined MBZ in the XWF in the winter of 2007 (Smackdown vs Raw 08). Roulard is a hardworking in ring wrestler who has a rounded approach to his grappling style. Previous to becoming a pro wrestler Roulard was a small business auditor. Currently employed as both a wrestler and accountant by Mortimor B. Zuckerman. Assists Zuckerman in all his financial dealings. The Count is hated by fans due to his appearance, history of closing small businesses and his association with Mortimor B. Zuckerman. He has no redeeming qualities and is all about making sure that MBZ is going to be a rich man for life. Because as he says "Counting money for MBZ means I get paid more than everyone in the arena combined!" Think I.R.S.
Money & Fame Tag Entrance (Mortimor B. Zuckerman & Albert "The Count" Roulard) Entrance
Spoiler
CAW #3
Call Name: Membrian
Nick Name: Membrian
Real Name: Brian Goodall
Height:178 (5'10")
Weight:71kg (156lbs or 11st2)
Hometown:Dublin, Ireland
Finisher 1:The Tract Finder (Step over Toe Hold)
Finisher 2:The  4 Leaf Clover (Texas Cloverleaf)
Signature Moves:
Overall: 81
Card Position: Midcard
Tag Team: Saints & Sinners (with Sinspector)
Stable/Faction: Zuckerman Inc (also referred to as MBZ Inc)
Entrance Music: Suicide Pact (You First) - Therapy?
Tag Entrance Music: Saints & Sinners - Kiss
Back Story: Membrian is one of the most unique entertainers in the history of the XWF, he is a heroin junkie from Dublin Ireland. Due to his intense desire to find the ultimate high, Membrian is known to have consumed copious amounts of heavy drugs he was called "insane in the membrain" by other street thugs, hence his name Membrian.He has been in a number of different rehabilitation centres and claims to be clean now. But he cuts through his pay check incredibly fast and often has to work for Mortimor B. Zuckerman to simply pay the "bills". (Game Debut: WWF Attitude)
Spoiler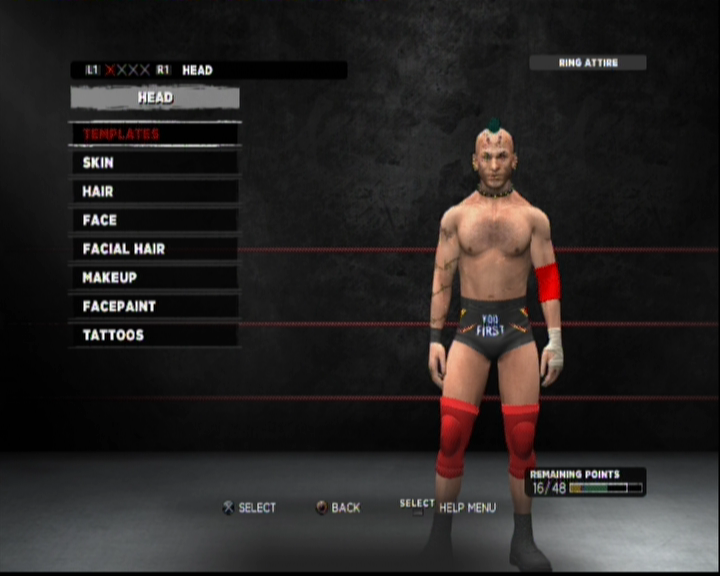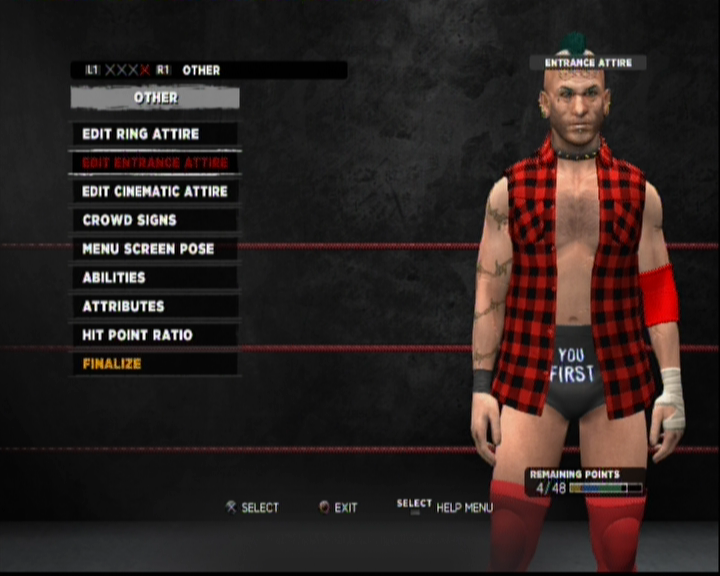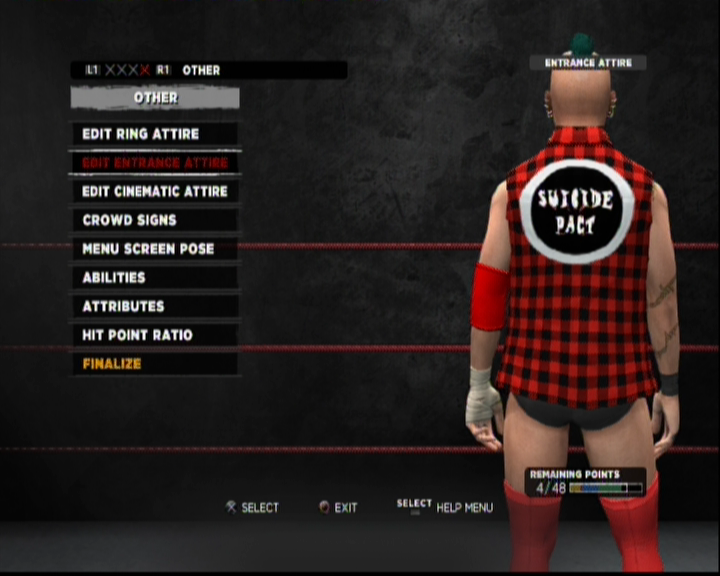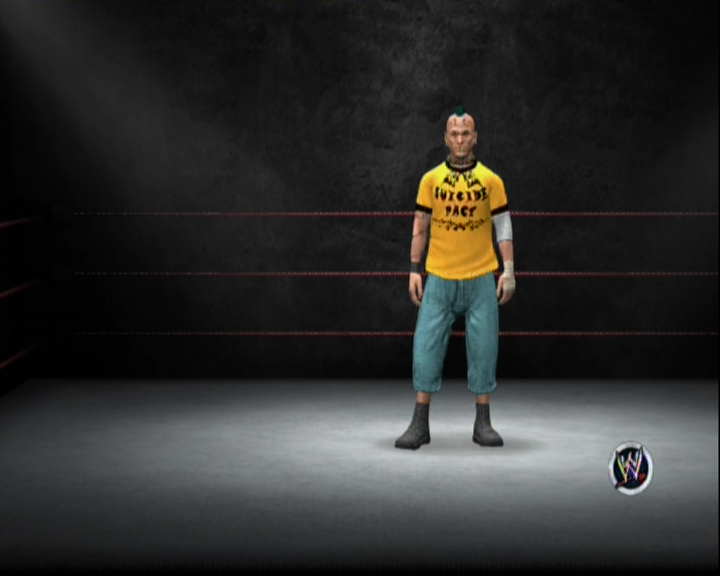 CAW #4
Call Name: Sinspector
Nick Name:
Real Name: Damien Doyle
Height:165cm (5'4")
Weight:73kg (160 lbs or 11st 6lbs)
Hometown:Adopted home town of: San Luis Potosi, Mexico
Finisher 1:Shooting Star Press
Finisher 2:
Signature Moves: Suicide Dive
Overall: 82
Card Position: Midcard
Tag Team: Saints & Sinners (with Membrian)
Stable/Faction: Zuckerman Inc (also referred to as MBZ Inc)
Entrance Music: Blood, Milk and Sugar - White zombie
Tag Entrance Music: Saints & Sinners - Kiss
Back Story: Demonic, Gothic, Sadistic, Terrifying, Electrifying, Crazy, Unhinged, Gravity Defying are all terms regularly used to describe Sinspector. His deep love for Lucha Libre wrestling is evident in his look but Sinspector is a man who also loves hardcore wrestling and this often comes to the fore when we least expect it. A risk taker and hardcore lover are two dangerous things in wrestling, something Sinspector combines to perfection. It is often stated that Sinspector will have a short career due to his high risk and hardcore nature. Having remodelled Sinspector in every game, and on a number of times in this game, I can officially state that he is my least favourite character. i have never been able to settle on a look which would best represent him and as a result he simply becomes the definition of disappointment to me. Other CAWS could look worse, but their gimmick will be supported within the look. With Sinspector time I simply gave up. What you see, well, that is the last attemp I will make at my most disappointing CAW. In truth I am glad to be finished with him.
Spoiler
And that sees the last of the members of Zuckerman Inc that I am creating for now. I will upload the tag entrance for Saints and Sinners (Membrian & Sinspector) as soon as I have the time. But up next: The Clergy.
CAW #5
Call Name: The Reverend Bob Sexington
Nick Name:The Rev/Reverend
Real Name: Bob Sexington
Height:200cm (6'6")
Weight:113kg (249lbs or17st 11)
Hometown:Lexington-Fayette, Kentucky
Finisher 1:The Clergy Crossover (Sharpshooter)
Finisher 2:The Sexington Sweep (Side Russian Leg Sweep)
Signature Moves:
Overall: 92
Card Position: Main Event
Tag Team: The Clergys: Rev & Pope (The Reverand Bob Sexington & Pope Paddy)
Stable/Faction: (Leader of) The Clergy
Entrance Music: Perfect Strangers - Deep Purple
Tag Entrance Music: ? (I cant remember right now) - Helloween
Back Story: Bob Sexington is the charismatic leader of the Cult/Religious organisation known as The Clergy. He regularly preaches about the sacrifices that we all must make for the greater good, but, this greater good is more often than not what is good for Bob Sexington. He uses his position of power and numbers to ensure that he remains in the main event and title picture. Bob was originally brought to the XWF by the Chairmain Edgar J. Broughton in the autumn/fall of 1996. As a new member of the company he was full of ethusiasm and edevour. Over the next two years as a wrestler Bob Sexington began to progress as a wrestler, slowly moving up the ranks of the company. By Spring of 1998 he had captured the now XWF Hardcore championship on two occasions and had risen up to the number one contender for the 5 Continents Title (the second highest singles title in the company). At this time XWF World Heavyweight Champion "The Cornerstone" Jesus Jones recruited Bob Sexington to become part of his new stable "Elite Forces" with the then XWF Tag Team Champions  John "Mojo" Striker and Ace Steel (Then known as "StrikerSteel"). To an neutral observer, this seemed like a powerplay by Jesus Jones to ensure he had all the gold in the XWF surrounding him in his stable Elite Forces; the purpose of which was to have his group as the faces of XWF as the company underwent its second INVASION angle as WASP (Wresting Association of Super Pro's) merged with the XWF and the superstars struggled for power. Bob Sexington went on to win the XWF 5 Continents Title and managed to hold onto it for 5 months before dropping the title to Diablos at XWFs "Hells Frozen Over" PPV. Post this defeat Bob began to spiral out of control. Having been a champion and a successful member of Elite Forces, having no title was like going cold turkey from heroin. He was out of control and unconsolable, he regularly missed TV and PPV appearances and was on the brink of being saked from the company  due to his difficulties when Jesus Jones took action and placed Bob in a rehab facility in Feb 2000. Bob returned to the XWF 12 months later. He proclaimed to be a changed man that had "found the light of the Lord Jesus Christ". During his time away he became an ordained Minister and had mafe an oath to himself that he would help each person he met in every way he could. From Feb 2001 until July 2003 Bob helped hundreds of people. He was celebrated by being mafe Honarary President of the "Make a Wish" foundation. Each week on XWF Monday Night Mahem Bob would come to the ring as part of Elite Forces and hold a short cermon highlighting the work that he had done over the past week. He began to form a group of followers and slowly he began to induct them into the Elite Forces group (Patrick Kehoe - later known as Pope Paddy, . Then in July 2003 Bob asked Jesus Jones for a World Title match. JJ now a 14 time World Champion granted his friend the match. The two met for the 1st time at XWF's *Censored* you it's July PPV. Bob looked to have the match won, with JJ prone on the mat Bob went to the top rope only to slip and fall, JJ rolled over for the win. The following night on XWF Monday Night Massacre Reverend Bob Sexington stepped into the ring alone, he called all memebers of the Elite Forces stable to the ring. He called JJ a cheater who would do whatever it took to win the match, he said he had learned from HH, he learned that the only way to help anyone is to show them how to take what they want. Bob says he is going to start leading by example. He then stepped out of the ring, as he  did 4 emembers of Elite Forces blindsided and attacked the other 3 original members (JJ, Ace Spade & John Striker). The 3 original members were now "Outcasts" in the eyes of Sexington. Sexingtons actions toward his mentor resulted in the Sexington v Jones feud that still burns hot today. Each week "The Revs" sermon became more and more sinister, his actions more violent he bagan to call his followers "Members of his Clergy". Soon the name Elite Forces was abandoned and he renamed his group "The CLergy" (Game Debut: Attitude)
Spoiler
CAW #6
Call Name: Pope Paddy
Nick Name:Pope
Real Name: Patrick Simpson
Height:184cm (6'0")
Weight:102kg (224lbs or 16st 1lbs)
Hometown:Rome, Italy
Finisher 1:The Confession (Torture Rack)
Finisher 2:Time to See the Light (Single Knee Facebreaker)
Signature Moves:
Overall: 84
Card Position: Midcard
Tag Team: The Clergys: Rev & Pope (The Reverand Bob Sexington & Pope Paddy)
Stable/Faction: The Clergy
Entrance Music:
Tag Entrance Music: ? (I cant remember right now) - Helloween
Back Story:
Second in command to Bob Sexington. He has always been a vocal supporter of The Reverend, announcing himself and the Clergys "Pope" to serve its Reverend and God, Bob Sexington. He is a complete convert who will not tolerate any doubts over the legitimacy of his religion or leader. Patrick Simpson jonied the XWF in 2002, he was the first member of the "elite forces" stable to be inducted by Bob Sexington as opposed to the then leader Jesus Jones and so remains fiercely loyal to him. He is a slimy/greasy kind of character who is constantly leering at young women.
Spoiler
Pope Paddy & The Reverend Bob Sexington - The Clergy (In New Age Cergy Attires) Tag Entrance
Spoiler
Edited by jackdaniels, 02 February 2013 - 10:25 AM.