All my CAWS are under the 360 username, CDRPopNFresh
Kiko Nakano
My long running character (seen below in older posts) has made a heel turn and here's hernew name, new gear, with a tweaked moveset, and back tattoos more accurate to how I used to draw her, instead of something slapped together with in-game stuff.
Enjoy.
-----------------------------------------------------------------------------------------------------------
OLDER:
"The Metal Maniac" Jacob Cass
Alignment: Face
Special Moves: SOS, Edge-O-Matic, Flying Knee Attack, Zig Zag
Automatic Slim
Alignment: Face
Special Moves: Huston Hangover, Flipping Neckbreaker, Clockwork (custom frankensteiner), DDT11
Not Pictured: Second purple attire matching Jacob Cass' second attire.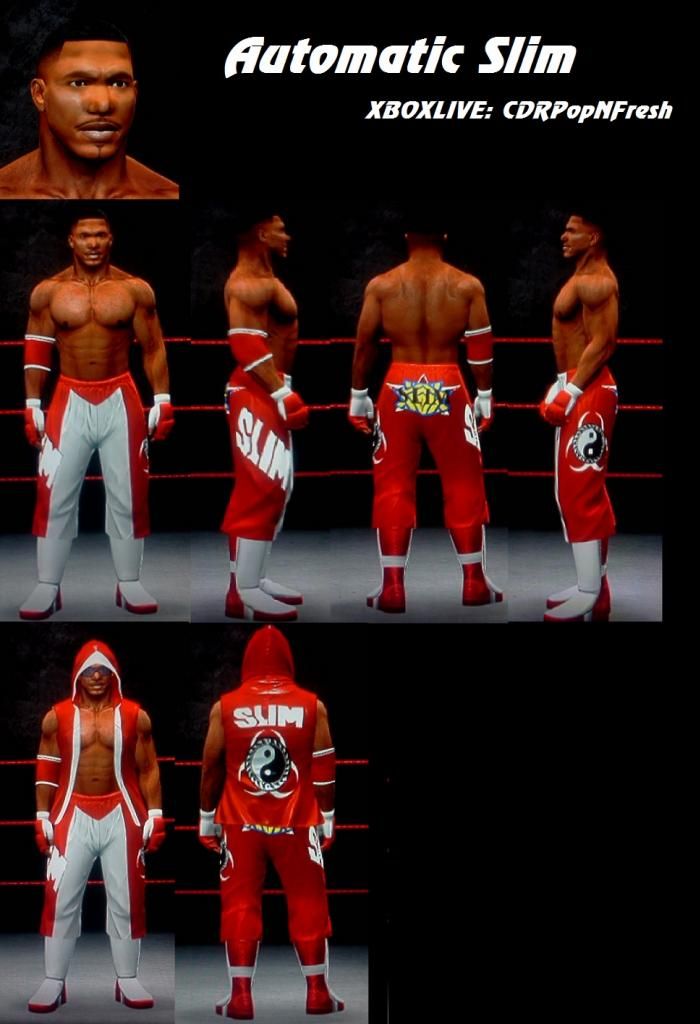 Becky Cass
Alignment: Face
Special Moves: Shining Wizard 3, The Flip Flop (custom slam), Pin-Up Strong, Skybreaker (custom top rope codebreaker)
*Not pictured is Becky Cass' second attire, her original "Wrestling Rose" gimmick.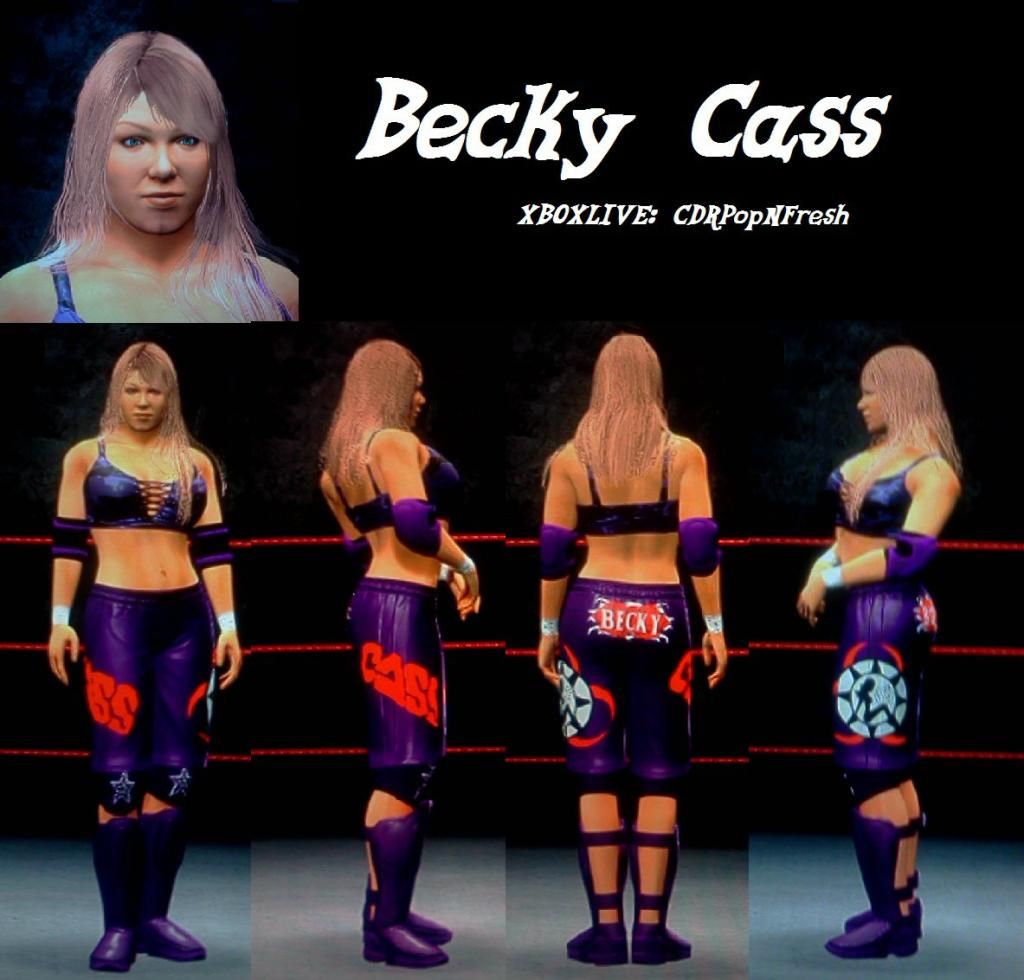 Name: Young Blood
Member Order: Jacob Cass, Automatic Slim, Becky Cass
Tag Motions: Tag 01 (Hardyz)
Trio Motions: Trio 05
Music: "We Know Something" by DJ Format
Tag Team Finisher: (Jacob and Slim) Backbreaker and Elbow 2
Jacob Cass entered WWE in '12 where he helped Triple H end a WCW invasion.  Then he teamed with Sheamus with their manager Triple H as The New Klik.  They held Tag gold, as well as Cass holding IC and World Titles.  
Becky Cass, Jacob's paternal twin sister, joined up as well, with an All American girl gimmick as "The Wrestling Rose" Becky Cass.  Eventually a Mixed Tag division was formed.  Jacob and Becky were groomed to be the premiere team, but befor they could have their first match, Jacob Cass sustained an injury which put him out for months, and the division was soon scrapped.  Becky floundered in the Diva's Division for a month or two before leaving for a short time.  
Automatic Slim came into the WWE when his childhood best friend, Jacob Cass, made his triumphant return.  Together, they stormed the tag division, holding the title on several occasions.  
Becky recently returned with a new look and joined Jacob and Slim, together forming Young Blood.  And together, they plan on bringing it to the WWE and eventually joining the ranks of WWE legends.
==========
And a singles entrant
Kozmo Kuiper
(pronounced "Kiper" like the Kuiper Belt)
Alignment: Face
Special Moves: Blast Off (Spear 5), Total Eclipse (custom top rope splash), Kuiper Belt (Beast Bite), Flipbreaker (custom slam)
Kozmo Kuiper played Football for Texas University and majored in Astronomy and Physics.  After a couple of years playing Stadium football, he began wrestling for the WWE.  He's fun loving and flamboyant, a contrast to his size and immense strength.

Sorcha



Ragnarok


Akiko Nakano (Attitude Era)
Schoolgirl Kamen
"Unibomb" Glenda Jacobs
"Stylin' Irish" Erik O'Reily
"Dirty" Brooklyn McQueen
"Mr. 123" Referee McGee
Edited by sonofblaine, 06 July 2013 - 03:03 PM.