INTRO
In a nutshell how I hope for this to work...a caw maker creates someone and needs assistance with a texture, i help out with the requested texture, texture(s) are previewed, fixed and then posted here (as a pt file).
Once the caw is complete and textures are applied some pics of them are posted in here this enabling what will hopefully become a useful thread to live on.
These pt's can be used by anyone and everyone though i will state who i am specifically making them for so would appreciate a little goodwill in letting them be the first to make use of them
.
One last thing please bare in mind i'm still pretty busy atm having just moved house a few days ago...and as of starting this topic still dont have wwe 13 myself so expect things to gather pace late this year early next year. As of now transparency is out via this method making the face textures i created last year pretty much nul and void at the mo...if that changes i can/will upload them if wanted, if it doesn't change then they will have to be revisited in full.
All fixed files will be added as and when they are done...again this is done to 'help' the community so please don't harass me too much lol...
As of now fixes shall be performed by Miztah Raza... textures by AJ and Rav.
I'm happy for anyone else to chip in so far as textures/fixes are concerned also...anything that can lighten the load on anyone can only be a good thing. As has been duly noted this is something we're taking time out to do so please don't expect the impossible and have patience.
I now have Gold back as of 14/11 so can start uploading this weekend with all being well.
Please send all requests/queries to:
ajtextures@live.co.uk
big thanks to Cody's RazaStache for the fixes.
I thought he had a credit line up here already.
---------------------------------------------------------------------------
Textures to be worked through is as follows (listed in the order that requests were received to the email address provided & duplicated requests discounted):
Kid Glory - Jay Lethal (attires)
Adam Helms - late wwf Owen Hart (attires)
Gonzalo Jaque - Macho man wcw attires (macho madness, nwo)
Anxiety - Chris Sabin (attires)
Misery Business - Melina (face)
DH3 - Chris Jericho (face, tat and attire - Summerslam 2012)
God - Drew McIntyre (face & alt attires)
The D - AJ Styles (attires)
Ballard32 - Trent Baretta (faces & attires)
NickBreaker - Test, Shamrock (attires)
Honor Me - RVD (ecw attires)
Codes - Magnus (attires)
Lance Brooks - Alex Shelley (recent or njpw attires)
All requests that were sent via pm have been discounted and there are also a few others that are being worked on not on this list as they are for members of this collab (i.e aj - Big E) but will still be uploaded to the community once complete.
Hope to get these done as soon as possible...if you're on the list feel free to post refs of specific attires as that will help greatly
---------------------------------------------------------------------------
Hey, yo, Slapnut$!
Rav popping in here with some thoughts and making an official "in progress' list.
First, the info. AJ covered above how we've been handling specific one-person requests for stuff. The material goes up for everyone, but we strongly urge that it goes to the person who asked for it first. I have taken to NOT tagging the stuff that is just for one person with our tags (I use CCTexture and NCO on all my uploads), and PMing people as I put up their stuff, but I fell into a series of interesting situations.
With Hardy, with Punk, with Orton, and oddly with Evan Bourne-- more thao one person asked for them at once. So instead of trying to figure things like "okay, at 10:45 am SkippyMcDippy asked for Jeff's tats, so he gets them, but at 1:42 pm EdwardScissorCaWs asked for Jeff's white Survivor Series facepaint, so he gets that first," I have just been doing the "okay, lots of people wanted this, so here it all is!"

This led to another subset of potential "who gets rights first" issues: what if someone asks if I can add something to a pack? I've been trying, in those cases, to let that person know first via PM.

But my personal stance on it is unless you MADE it, or you sent me all the refs and asked for it, or unless you had an in-progress and asked me to put something up for you, I can't really protect your stuff once i put it on XBL, because the side effect of this awesome service that AJ and RazaStache have brought me into is that now there are soooo many people searching my uploads. I put some stuff up specifically for one user the other day (it wasn't even my work-- I was just uploading so he could DL). It was on the server for like 30 minutes, at midnight. A few of the pieces had 5 DLs as I was deleting them.

So it's going to be hard to keep anything from anyone.
My personal stance on that is "that's fine." In special cases, like if it's an nCo project for one specific creator, and that creator gave me specific directions and has a specific vision, then I make sure that person gets the stuff and it doesn't linger until that person previews here and uploads. And in the case of my own stuff... I tried to not upload the tats from creations I was making until I made sure they blended (the Batista ones are still a bit of a chore, but I was afraid if I sent any more Batista textures for Raza to fix he'd lose his mind. Still-- it was a break from Jeff Hardy!). In that case I'm never trying to prevent anyone from using my stuff. It's just if you could see, for example, the number of color variations I have on Brock's tattoos, you'd understand that until I put them on and look at them, I don't know which ones are all matched right and work together, and once I put a set up and people start DLing it, that's going to be the set. So I want to get it right. I do move faster than some people, and sometimes that means a slight compromise in quality, but I still try to get the best product I can out there for people.
I mean if we want to get super-crazy about it, "ownership" of any of these textures would be dicey to figure out. Most of my stuff starts as either an old in-game model or a photo that isn't mine. I alter it, make it work as I want it to. Sometimes I draw it from scratch, staring at a ref. But then I send it to Raza, and he does his thing with it, too. So by the time it makes it to CC, it's already "belonged" to at least 3 people. In that sense, no one should ever get huffy about who gets what. The idea, at least from where I stand, is for everyone to get the maximum fun out of the game.
So that's my lil rant, TL;DR: please don't get mad if someone else is using a texture you asked for.
And now, Rav's in progress list (in order, but due to my working speed, this is order with the caveat that I have to take breaks from the stuff at the top because it's really hard, so sometimes I pick up an easier one so I can more quickly get stuff to people):
1. Crimson tattoos and logos
2. Gunner tattoos (logos? IDK if we need those)
3. Perry Saturn tattoos
4. Matt Morgan tats and attires
5. Ultimo Dragon masks/attires <-- I could really use help from someone who has done whole head texturing to figure out the best way to chop this up
----------------------------------------------------------------------
Complete textures posted here: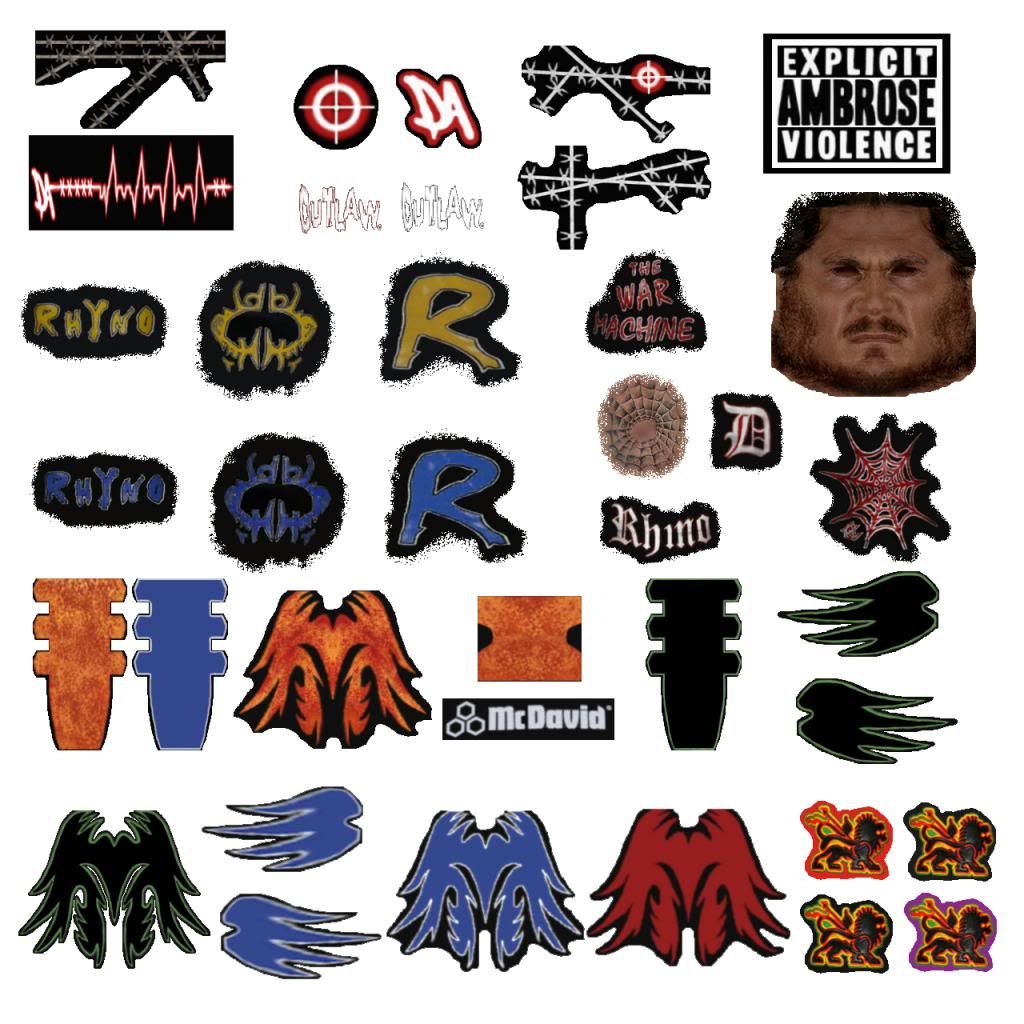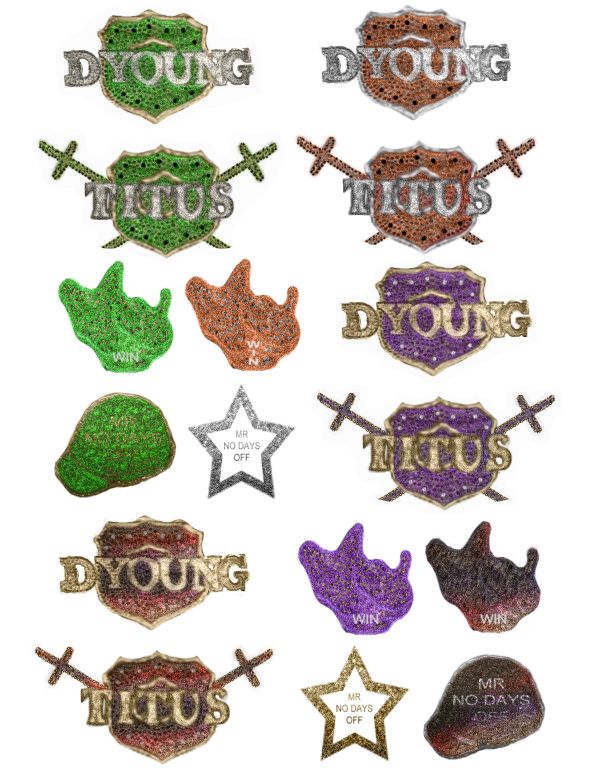 Download:
http://www.mediafire...l09upxlusjxqjrl
Contents:
The others will come depending on my(Miztah Raza's) mood, so give favours(you know what kind, jk, lol).
Various TNA PPV logos, might help for logos, arena making, etc.
Download:
http://www.mediafire...7x0i78in65xb867
Credits:
DH3 for giving me the TNA PPV Logos.
Tekken57 for making the PT tut for WWE'12
Tich for converting that tut for WWE'13
BrienJ for making the new, easier to use, 'Injector'. (Lets face it guys, no matter how much you might dislike him or he might dislike you, he's one of that major reasons we kept playing WWE'12 until the release of WWE'13)
Update 12/10
Jeff Hardy Textures on CC:
Tags: hardy, nco, cctexture
Edited by CrystalTex, 22 December 2012 - 07:42 PM.